Services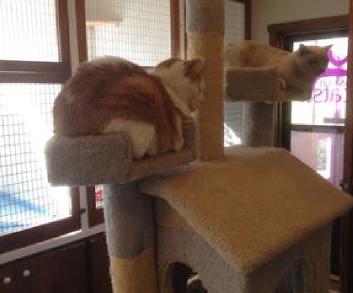 Community Cat Tree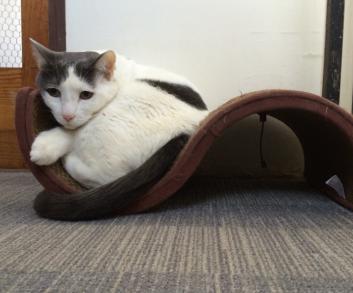 Plenty of Places for "quiet time"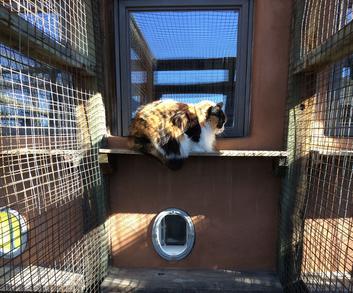 Individual "Catios"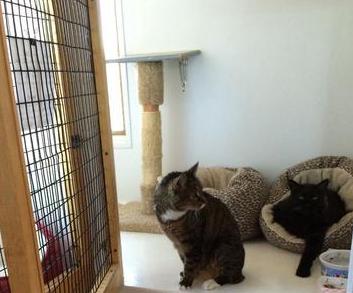 Your Family can stay together!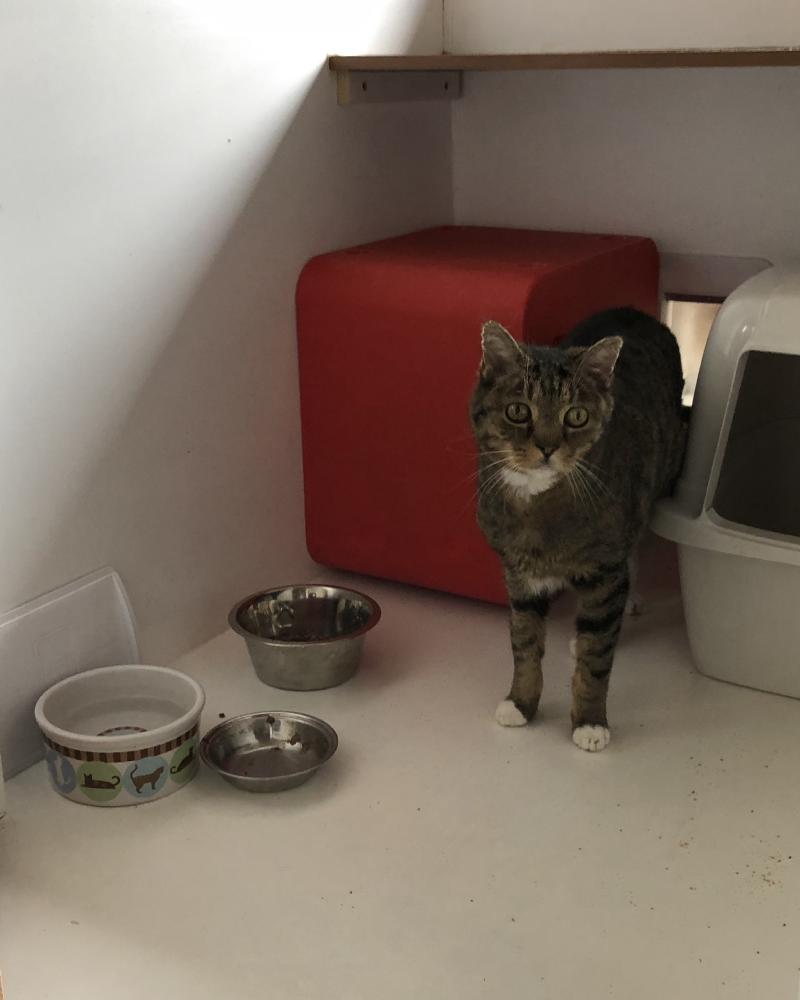 Suites
$35 per suite for one cat; $55 per suite for two cats 5% discount applied to stays 16 nights or longer
10% discount applied to stays 31 nights or longer
Note: since rates are per night, standard check-out hours are 8:30am to 12:00pm. Check-outs between 3:30pm and 6:00pm will incur an additional fee of $15 per suite. Discounts do not apply to holiday periods.
Holiday Surcharge: In order to pay additional wages to our staff for providing care during peak periods, there will be a $10/night per suite the entire months of November and December as well as the Friday before through the night of the following holidays: Easter weekend, Memorial Day, July 4th, Labor Day, and New Years Day. Transport: $30 [city], $40 [county]
Daycare: Only $25 per day for one cat; $15 each additional cat [subject to space availability]
Local checks preferred. Visa, MasterCard, Discover and PayPal accepted
Note: In order to maintain our extended stay discounts, effective 6/1/2021 a fee of 3.8% [4% for American Express] will be added to all credit card payments. Thank you for your understanding.
Health Requirements for Boarding
For the health and well-being of ALL feline guests, our requirements may be more stringent than other facilities. It is not safe to house cats that have been leukemia tested with cats who have not, even if they do not interact with each other. Simply vaccinating against FELV without a confirmed negative test, does not protect any cat.
Rabies Vaccinations
All cats must be current on rabies vaccination as required by state law. A copy of a Rabies Certificate [not vet invoice] or written waiver from your vet must be on file. This requirement is to protect your cat in the event an employee is bitten and requires medical attention. The absence of a valid rabies certificate could result in mandatory quarantine by the Health Department.
FVCRP
Either a vet record or waiver is required.
FELV
Date of last test and confirmed result is required. Current vaccination is also required on all cats who are indoor/outdoor at home.
Clipped Claws
For the safety of staff and other feline guests, we require that all cats have their claws clipped short [within three days prior to check in]. We would be happy to teach this simple procedure or do it upon arrival a nominal fee of $10. Zen Clippers are now available for purchase at $20.
Parasite Control
If your cat is indoor/outdoor, for the protection of other guests we require deworming and application of a topical flea & tick product within 15 days prior to boarding. We offer Revolution for $25 [one month].We administer regular medications you provide at no additional cost if the guest is cooperative. Sub-q fluids [client]: $20 per administration.  [SFC]: $25 per administration. Insulin: $10 per administration including glucose check
For the safety of your cat please use a pet carrier. Transporting a cat loose in your car puts it at risk of severe injury or death in the event of an accident. Like a small child, a loose animal can become a projectile within your vehicle and can even penetrate the windshield. In addition, we are located on several acres with hundreds of acres around us. If your cat escapes your vehicle or jumps out of your arms while trying to carry it in, the chances are of finding it in unfamiliar territory, before the coyotes do, are slim. Please DO NOT put your cat at risk. If you do not own a pet carrier, we have several types available for sale at reasonable prices.